actor behind 'harry potter' audio books lends voice to many
by jim farber
copley news service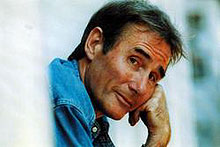 jim dale - jim dale is a man of a thousand voices and a genius at bouncing from one to another. he put his talent to use recording the voices in the seven j.k. rowling's harry potter books for random house inc.'s listening library. in 2001 dale won a grammy award for the127 different voices he created for "harry potter and the goblet of fire." cns photo.

"next? who's next?" called the disembodied voice out of the darkened hall of the savoy theatre. backstage a bevy of young would-be performers, who had all showed up for the audition in the english midlands town of kettering, perked up their ears. the year was 1952.
a moment later, a spry young man came flying onto the stage, snagged his foot on the curtain, fell, rolled over, regained his footing, and with a dazed expression stared out into the empty hall.
there was a good deal of laughter.
"all right, son," said the director. "what are you going to do for us?"
"voices, sir. i mean, i'm going to do impressions, sir," said the boy, still flustered from his fall.
"what's your name?"
"dale. jim dale."
"and how old are you?"
"seventeen, sir."
"all right. go ahead."
a dozen or so impressions later he stopped.
there was a long silence. then the director said, "son, those were the worst impressions i've ever heard."
taken aback, the boy replied, boldly, "i think they were very good!"
"but, son," the older man explained, tartly, "none of us know who your mother's butcher is, or the rent man, or the postman. we have no idea who these people are!"
shaken, but filled with resolve, the boy retorted, "to me that's funny - an impressionist who does impressions of people you've never heard."
"that's too surrealistic for me," said the director. "but," he added as an after thought, "that fall you did when you came on was great. get yourself an act where you fall over and we'll see what we can do."
determined that this was going to be his big break, dale went home, put together an act with lots of falling down in it, auditioned again, and was cast in the touring talent show, but not as an impressionist.
you could say jim dale fell into show business. for more than half a century, since the day of that fateful audition, he has trod the boards, performing roles from shakespeare to samuel beckett, from pratfall comedy to broadway musicals.
he's been a member of london's national theatre, received a tony award in 1980 for his tight-rope-walking performance in "barnum," and a drama desk award for his 1995 off-broadway performance in "travels with my aunt."
the irony is that after all this stage success, jim dale is likely to be remembered not as a man of the theater, but as the man of a thousand voices who has recorded all seven of j.k rowling's harry potter books for random house inc.'s listening library.
a genius at bouncing from one accented voice to another, his recordings have brought the muggle and the wizarding world to life for millions of listeners - children and adults. the 127 different characters he created for his recording of "harry potter and the goblet of fire" was awarded a grammy in 2001. and, just weeks ago, his name was entered in the "guiness book of records" for the 134 characters (the most ever recorded by a single reader) that he created for his recording of "harry potter and the order of the phoenix."
the point is, if you haven't encountered dale's recordings, you're denying yourself one-third of the harry potter experience. it doesn't matter if you've read the books and seen the movies. the audio books offer a totally unique passport to hogwarts school of witchcraft and wizardry, the rough-and-tumble broomstick sport of quidditch, and the sinister thoughts behind the scarlet eyes of he-who-must-not-be-named.
"when a child (or adult) reads a harry potter book," dale observed, speaking from his new york apartment, "they create the images and hear the story in their own voice. the films tell you, 'this is the way the character looks and sounds,' which leaves little room for imagination.
"the joy of the audio books is that they allow the listener to use their imagination to create a more outrageous and unusual sense of the characters than they could just listening to the voice in their head, which speaks with an american accent. the characters in these books are english. and hearing the books read with all the different english accents offers an entirely different experience."
ever since he recorded the first novel in the series, "harry potter and the sorcerer's stone," dale has approached the books as an actor first, and a reader second.
"i knew instinctively that i needed to perform these books, not just read them," he said. "i couldn't allow a chance like this to go by without trying to use my skill with accents and my acting experience to bring the characters to life."
when dale recorded "harry potter and the sorcerer's stone," the "potterhead" phenomenon was still in its infancy. as dale pointed out, "you could still meet people who had never heard of harry potter."
it was the calm before the storm.
"in those early days, the process of recording the first three books was a lot more leisurely," dale recalled, with a hint of nostalgia. "i had the chance to read the books two or three times before we went into the studio. i would come in with several different voices for each character. and i'd say to my producer, 'which one do you like best?' then we'd play with them. there was no fixed deadline. but with the last two books (beginning with "the goblet of fire"), there's been a tremendous amount of pressure to get the tapes out the same day as the book."
the pressure surrounding the recording of rowling's latest book, "the order of the phoenix," was particularly stressful, dale explained, because right up to the last moment, random house was in a bidding war to obtain the recording rights. kept on tenterhooks, dale had no way of knowing whether he would be going into the studio.
"until i found out whether we had the rights," said dale, "i couldn't accept any other work. i was offered a couple of films and a play and i had to say, 'i can't give you a decision yet.' i felt obliged to be on call to record harry potter. and i wanted to do it. all i could do was cancel everything and wait."
finally, in april, the contract was signed. it was a relief for dale. but it meant that the entire production had to be completed, packaged and in the stores by the publication date, which was set for june 21. dale would have less than three weeks to record the novel's 38 chapters, speak 255,000 words and create the voices for 134 characters.
in addition to the time crunch, there was the question of security. at that moment, there wasn't a literary property in the world that was more valuable, and heavily guarded, than harry potter 5.
"the whole book was sent to me as a single-page manuscript," dale recalled. i wanted to go up on the roof and shout, 'i've got it! i'm the only person in america who's got the new harry potter book!' and i'm going to be the first person to read it!"
then the reality of what he was facing set in.
"the book was given to me on a saturday, and i had to be in the studio on monday doing it," said dale.
the first thing he did was break the book up into 100-page segments. then he sat down and started to read.
"i didn't have time to read slowly or go back over the story. i was always looking for the characters," he explained. "then i would experiment. by the end of that first evening, i had created 10 new voices. then i recorded their first line of dialogue on a small tape recorder as a guide."
it was a grueling process.
"i couldn't go to bed at night without knowing what the voices were going to sound like," dale continued. "i would be up sometimes 'til 2 in the morning. my wife would come in and point to her wristwatch. and i'd say, 'but i haven't finished yet.' it was a question of digging up all the voices i'd ever heard in the past."
many a reader would have been content to simply say rowling's words, but not dale.
"what i had to do with every character, even if they only appear for one sentence, was put myself into their head, see the world through their eyes and speak the words j.k. rowling wants me to say," said dale. "book four has 127 characters. "order of the phoenix" has 134. but that does not mean i only had to invent seven new voices, because 60 of the characters in the last book don't reappear. it was a question of inventing 67 new voices - it was crazy."
another problem that kept cropping up, said dale, was that there were words and names that no one knew how to pronounce.
"we would often record a sentence four or five different ways," dale said. "then when we got the go-ahead from england as to what jo (rowling) wanted, we usually had it."
in addition to defining rowling's vast array of characters, dale was faced with the challenge of capturing the book's decidedly darker tone and angry energy; a quality one character refers to, sarcastically, as so much "adolescent agonizing."
"she's captured exactly what 15-year-old kids are like," said dale, speaking from experience, having raised three sons. "at that age, everybody is angry. they're very selfish. they want to rule the world. they think they're the most important thing on earth. but the truth is, they don't really know who they are."
at the same time, dale pointed out, the book forces its three central characters harry, hermione and ron to face issues that seem to have been ripped from today's headlines.
"what she (rowling) is doing," said dale, "is introducing these children into an adult world. it's not a fairy tale. it's not all fun. there are political realities in the book that are very much a part of our contemporary lives: the loss of personal freedoms, the necessity to take a stand. she's bringing into a child's world the adult problems we all face."
amazingly, the book and the recording came out the same day. and since its release, "harry potter and the order of the phoenix" has become the fastest selling audio book in history.
"we spent 145 hours of recording time in the studio for this book," said dale, proudly. "and there were thousands upon thousands of times when we had to stop and start. it was exhausting. but i'm glad i had the chance to do it.
"being the voice of harry potter allows me to be the voice of j.k. rowling to millions of children. and if that's the way i'm going to be remembered, by my grandchildren and, hopefully, their grandchildren, that isn't so bad."
return to interviews or go to jim dale home page